RainDance in Windsor is in its first phase of development which will consist of 893 home sites which includes 46 one acre custom home lots in the Acadia section of Raindance. Raindance is home of the RainDance River Resort pool, the largest (and questionably) the only lazy river pool in Northern Colorado. In total Raindance in Windsor will be home to 2800 total home sites with a combination of luxury homes, single family homes, townhomes, condos, and a rental community.
Parks and Recreation in RainDance
There are 15 miles of planned community trails scheduled to be completed throughout RainDance which will connect to the 21 mile Poudre River Trail and to Windsor's 40+ miles of paved, natural, and open space trails. Trails for days! Currently, there are walking trails through the first phase of the community and more are being paved everyday. The trails are golf cart friendly.
Pollinator Park will be located inside the 1 acre custom home section of the RainDance community with an apiary, ornamental plantings, and passive open space.
There will be 70 acres of parks, recreational greenways, and passive landscape area throughout the first phase of the RainDance community.
RainDance Park is a work in progress. The vision for this 13 acre park in the center of RainDance will include permanent farms, community gardens, an amphitheater, a passive lawn, and the RainDance River Resort pool. This park area is under construction.
Plum Park is another RainDance park which is smaller, only 1 acre in size that will has a playground, plum tree orchard, and corn hole court. Approximate location Peach Blossom Dr and Iron Wheel Dr.
Berry Patch Park will be a 1.5 acre park with ornamental plantings and passive lawn space.
Cherry Park is a 3 acre park with a playground and open space located on Heirloom Dr east of Covered Bridge.
Raindance River Resort Pool
The Raindance pool opened in the summer of 2020. Covid 19 restrictions were in place and the Raindance pool was limited to Raindance residents only. The Raindance pool membership will be free to Raindance residents for the summer of 2021. Raindance pool memberships will be a paid membership moving past 2021. The Raindance pool will be open to the public for a fee that will be announced at a later date. The Raindance pool has a lazy river, water slide, a lap section, and beach entry.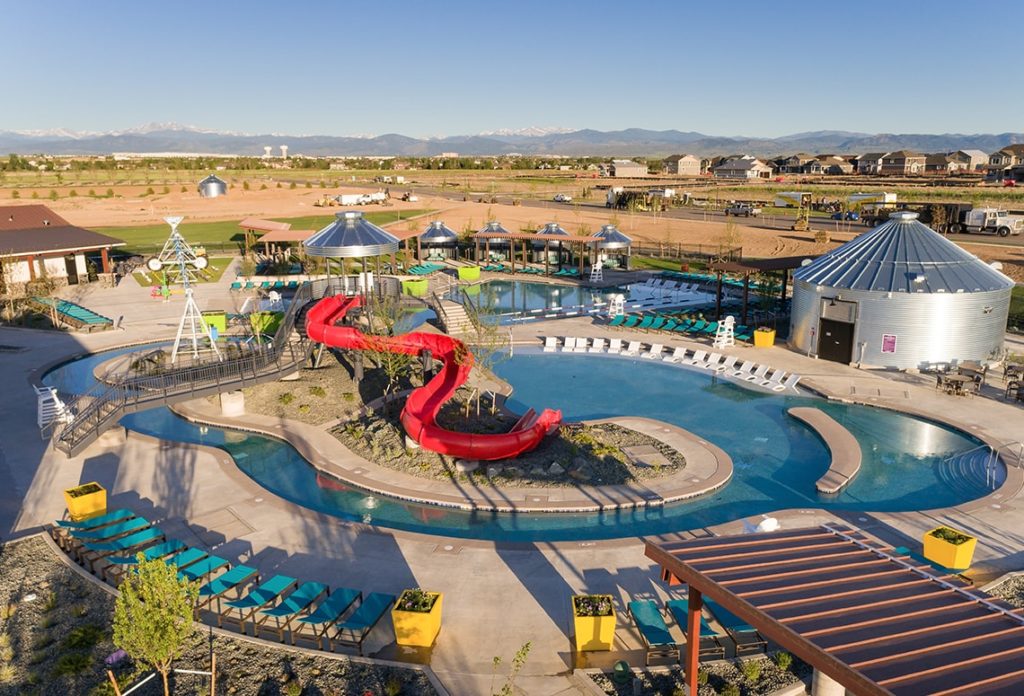 RainDance National Golf Course
In the second phase of development in RainDance we will see the addition of the 18 hole golf course. The RainDance National Golf Course will be located north of New Liberty Rd. This 19 hole course is being designed by Fred Funk. Estate homes on the golf course will be available for sale in mid to late 2020. Dates are approximate.